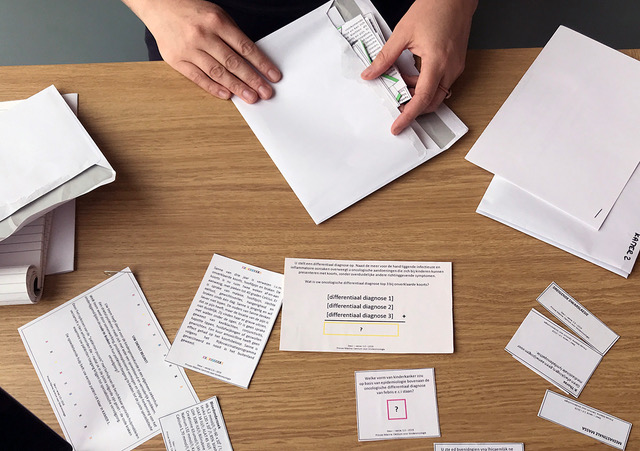 Anouk Steur works alternately in different specialized care departments of the Princess Máxima Center in order to gain more experience.
Education
"In addition to pediatric oncology, I am also interested in providing and developing training. Healthcare providers at the Máxima Center may know me from simulation training, but I also give eLearning courses about recognizing cancer in children and the emergency situations that this may cause. We had the opportunity of organizing a mini-symposium at the conference of the Nederlandse Vereniging voor Kindergeneeskunde (NVK) on behalf of the Máxima Center, in which we addressed this important topic. Pediatric cancer is rare and may manifest itself as very general symptoms. Nevertheless, primary care physicians and pediatricians must recognize the underlying disease quickly.
Escape room
"I was looking for a tool to achieve that goal." A team from the Academy from the Princess Máxima Center recently built a physical escape room about the Safety Management System themes. Anouk: "What's so good about an escape room is that it is a game, you are open to the knowledge and you're really into it, as only the right answer will help you progress. These are all elements that make it an excellent tool for education. But a physical escape room wasn't suitable for the location in Papendal. And we also wanted it to be possible for a large group of people to play the escape room in teams. So I took some paper along: three virtual rooms (envelopes) with information in the form of clues and puzzles. These addressed different kinds of oncological emergencies."
Mini-lecture
"When children present with fever, you may have to consider pediatric cancer. A child that
does not want to walk, may have a tumor that causes paraplegia. By combining the escape
room with an informative mini-lecture after escaping each virtual room, we provided more
in-depth knowledge that the participants in the escape room had to use to solve the puzzles.
These solutions were needed to crack the final code, after which the symposium was
concluded with a lecture about pediatric oncology care in the Netherlands. Together with
pediatric oncologists Natasja Dors, Jan Loeffen, Annelies Mavinkurve and Wouter Kollen, we
have shown with this seminar how effective education with a customized escape room can
be." Anouk believes the escape room can also be used for other target groups, such as resident
pediatricians and Shared Care colleagues. Anouk: "We have not made any arrangements
about this yet."
Mission
Anouk concludes: "Early recognition of cancer in children and the emergency situations this
may cause contribute to the mission of the Princess Máxima Center: "To cure every child
with cancer, with maximum quality of life". I now use the escape room concept I developed
as an educational tool in my capacity as resident pediatric oncologist.